Your career in tech starts with
HE
R.
#Educating I #Empowering I #Enabling I

HER Digital Academy is a global social impact school providing girls and women with
the skills, confidence and community support enter and excel in a world of tech.
Personalize your learning through micro-credentials.
Free Learning
400 + students around the world have learned basic coding skills at HER Digital Academy.
Learning from world-leading academics and practitioners, you'll not only receive an outstanding grounding in the basics of coding, but you will be able to understand how those principles are applied in practice through hands on projects.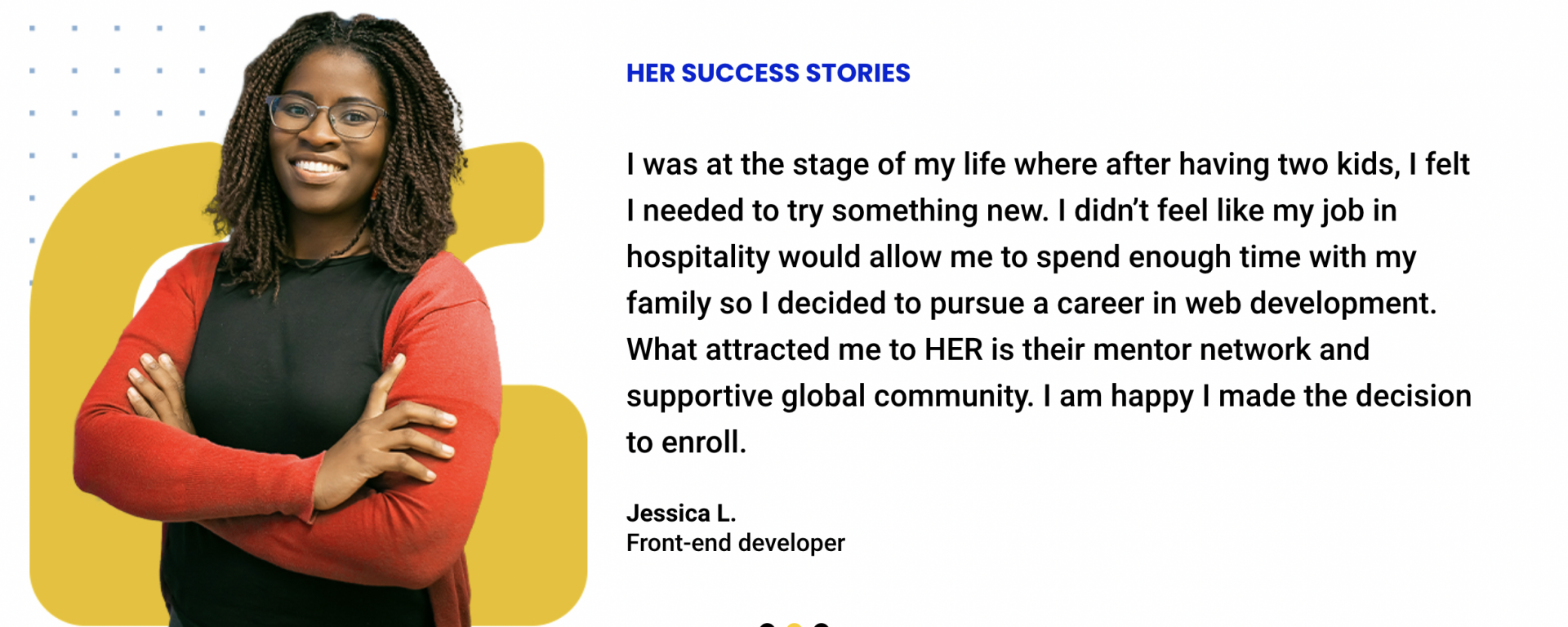 A GLOBAL COMMUNITY.
Since 2013, we have fought for equal opportunity in technology. By 2030, in line with the UN Sustainable Development Goals, we aim to empower 100,000 people with access to education, jobs, and mentorship.
As part of this initiative, our students receive access to resources, including our networking platform, events, job marketplace and community who are all working together to build a better future.

MOVING FORWARD BY GIVING BACK.
Education destroy
s
harmful gender stereotypes, builds the self-esteem of girls and women, and gives them the skills they need to thrive in the workforce. This is why HER Digital Academy, in line with the UN Sustainable goals, offers free learning options to students in developing nations and other situations of vulnerability. HER Digital Academy is an active Participant of the United Nations Global Compact and is committed to its principles in the areas of human rights, labour, environment and anti- corruption.
Why study with us?
We've been leading the hybrid landscape of education in Canada since 2008 and had offered more than 15 courses in 10+ countries to hundreds of students. Stay ahead and learn how our professional diploma programs & online certificate courses can help you excel in your future career.

Never miss our news.
Subscribe to our newsletter!
Our weekly email newsletter, is an indispensable weekly digest of the latest updates on industry insights, latest news and opportunities.

Anyone can subscribe. Just fill in your email address above. It's easy to unsubscribe or change your preferences whenever you wish.
Stay up-to-date
Upcoming events
Created with